Americans with Disabilities Act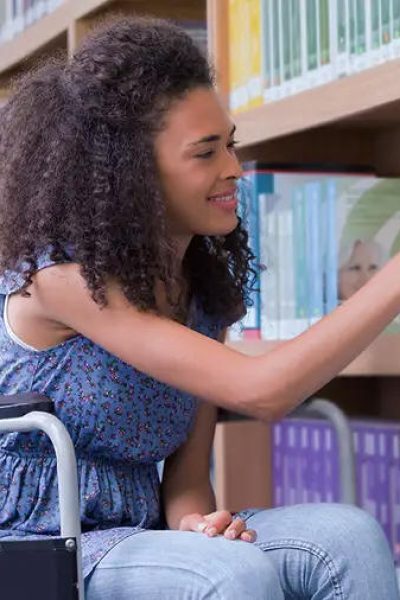 Effective self-advocacy begins with knowing your rights, and there are laws that help define those rights. The most well-known is the Americans with Disabilities Act (ADA), which was signed into law by President George H.W. Bush on July 26, 1990. It requires that people with disabilities be given equal access at all levels of society, including jobs, government services, public accommodations, and public transportation.
Who is protected by the ADA?
A person with a disability or who has had a disability—someone with a physical or mental impairment that substantially limits one or more major life activities. This might include the ability to see, hear, speak, breathe, or walk.
A person who is perceived to have a disability; e.g., an individual who is a cancer survivor.
If you are living with vision loss, it's important to understand the basic facts about ADA and how it protects you.
Title I
Title II
Title III
Dog Guides
Title IV
Title I
Title I of the ADA covers employers of 15 or more people. Employers must make employment application and testing procedures accessible by providing "reasonable accommodation." For example, all employment applications must be available to you in an accessible format.
If you are required to use a computer to complete testing, the employer must make that computer accessible to you. The employer may choose the accessibility software but it must give you an opportunity equal to other applicants who are not visually impaired.
Employers must make memos, benefit information, employment-related documents, and on-the-job training accessible. If, as an employee, you experience vision loss, your employer must make "reasonable accommodations" to allow you to perform your job.
For more information on Title I, see:
Title II
Title III
Dog Guides
Title IV
The White Cane Laws are a set of state laws that were the first to provide people with vision loss access to public facilities and transportation. The first White Cane Law dates back to 1966, and now each state has its own version on the books. While the language varies from state to state, all white cane laws protect pedestrians in similar ways.
The laws oblige operators of vehicles to stop when approaching a pedestrian whose cane is extended or who is using a dog guide. The driver is required to take the necessary precautions to prevent an accident or injury to the pedestrian, even if the pedestrian should cross at the wrong time or place. The laws also state that the white cane (or white with a red tip) is only to be used by people with vision loss.
Many drivers are either unaware of the white cane law or choose to ignore it. Always take care to use official crosswalks and obey traffic signals.
October 15 is White Cane Day! Observed annually, White Cane Day honors the independence gained by people who are blind or visually impaired.
Getting What You're Entitled To
An identification card replaces a driver's license for individuals who are unable to drive. It has the same value as a driver's license for travel, such as when flying.
Although the process can vary from state to state, most states typically require that you call or visit your local Division of Motor Vehicles (DMV) or whichever government office addresses public safety concerns. For faster service, it may help to make an appointment in advance.
Be prepared to:
complete an application;
provide a thumbprint;
have your picture taken;
provide your social security number, date of birth, and proof of residency and/or citizenship; and
pay any required application fee(s).
FYI: Just about all federal, state, and local government forms and their respective requirements are accessible online. If you have web access, it's a good idea to consult your state's web page before you begin the application process.
You are eligible for a special parking permit or license plate if you have one or more severe disabilities that affect mobility. You must contact the local issuing agent that provides this service to individuals in your home area. The issuing agent can vary from state to state. Visit your local city or town hall, automobile tag office, or tax collector's office to find out where your nearest permit issuing agent is located.
Keep in mind:
You must fill out an application.
It is necessary to have a medical professional verify your disability.
A parking permit may be issued for either a permanent or a temporary disability.
While permits are issued in the name of the person with the disability, you do not have to be a driver or the registered owner of a vehicle to get a parking permit.
If you have a driver's license or identification card, bring it with you when you apply for the permit.
Other Disability Rights Laws
Other disability rights laws cover access to telephone equipment and services; federal government information; private housing; voting; and air transportation. See the Department of Justice's A Guide to Disability Rights Laws for an overview of these federal laws that ensure equal opportunity for people with disabilities.
Community Access Center Never Charges A Fee For Services Provided.
Investigation of discrimination claims and mediation on behalf of people with disabilities in order to resolve conflicts that impede the attainment of needed benefits and services.
Consumer Rights Notification
Every consumer of the Community Access Center has the right to appeal any decision which denies you service. (NOTE: The appeal must follow certain guidelines and time limitations; ask your service provider for a copy of the procedure).If you desire representation in addressing your concerns/dissatisfaction with the Community Access Center (CAC), you have the right to contact the Client Assistance Program (CAP) for assistance. Contact the CAP at 1 (800) 776-5746, (and for the hearing impaired their TTY 1 (800) 576-9269), and you will be referred to a Client Assistance Program not connected with CAC. This will prevent any potential conflict of interest.